WELCOME TO E-LEADER SINGAPORE

Republic of Singapore, is an island city-state located at the southern tip of the Malay Peninsula, lying 137 kilometres (85 mi) north of the equator, south of the Malaysian state of Johor and north of Indonesia's Riau Islands. At 710.2 km2 (274.2 sq mi),[7] Singapore, a microstate and the smallest nation in Southeast Asia, is by orders of magnitude larger than Monaco and Vatican City. These, as well as San Marino, are the only other surviving sovereign city-states.

Climate
Under the Köppen climate classification system, Singapore has a tropical rainforest climate with no distinctive seasons. Its climate is characterized by uniform temperature and pressure, high humidity, and abundant rainfall. Temperatures range from 22 °C to 34 °C (72° to 93 °F). On average, the relative humidity is around 90% in the morning and 60% in the afternoon. During prolonged heavy rain, relative humidity often reaches 100%.[41] The lowest and highest temperatures recorded in its maritime history are 19.4 °C (66.9 °F) and 35.8 °C (96.4 °F) respectively. June and July are the hottest months, while November and December make up the wetter monsoon season. From August to October, there is often haze, sometimes severe enough to prompt public health warnings, due to bushfires in neighbouring Indonesia. Singapore does not observe daylight saving time or a summer time zone change. The length of the day is nearly constant year round due to the country's location near the equator.
Time zone
SST (UTC+8)
Date formats dd/mm/yyyy
Language
Official languages are English (main), Malay (national), Chinese, Tamil.
Population
According to government statistics, the population of Singapore as of 2008 was 4.84 million, of whom 3.64 million were Singaporean citizens and permanent residents (termed "Singapore Residents").[77] Various Chinese linguistic groups formed 75.2% of Singapore's residents, Malays 13.6%, Indians 8.8%, while Eurasians, Arabs and other groups formed 2.4%
Informations about Singapore - Wikipedia
Drives on the left


ATTRACTIONS
Singapore Theme Parks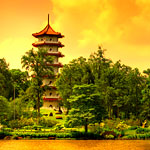 The Chinese and Japanese Gardens are off Yuan Ching Road, and adjoin Jurong Bird Park. Each garden covers 13.5 hectares. The Chinese Garden, which occupies the island on Jurong Lake, is done in the classical Northern Chinese Imperial style...(More)
Outlying Islands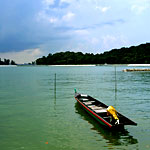 Besides the theme-park delights and luxury hotels of Sentosa Island, Singapore has several outlying islands that are less developed and less crowded. They're great places to swim, sunbathe or even set up camp amid peaceful and natural surroundings...(More)
Chinatown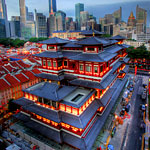 Singapore's Chinatown is a unique mix of old Peranakan-style buildings, cosy tea-houses, traditional medicine and herbal shops, colourful night markets, sleek renovated offices and trendy restaurants and bars. In this charming quarter, right next to the high-rise Central Business District, you could spend your afternoon haggling over the price of antiques and your evening in the newest and hippest restaurant in town. Chinatown still proudly bears the heritage of its eventful past, but it's also quick in assimilating the new and trendy...(More)
Museums & Galleries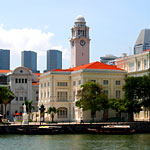 The Singapore History Museum at Stamford Road (tel: 375 2510), traces the eventful history of Singapore from the 14th century to the modern day. It is housed in the historic colonial-style National Museum building, which was built in 1849 after a suggestion by Sir Stamford Raffles...(More)


More attractions - HERE